I blame everything on roaches.
That's roaches in general, not any one offender or particular circumstance that scarred me in the past. The deep-seeded hate turned paralyzing fear of the abysmal creatures has always been there and, irrational as it may be, I just can't seem to get past it.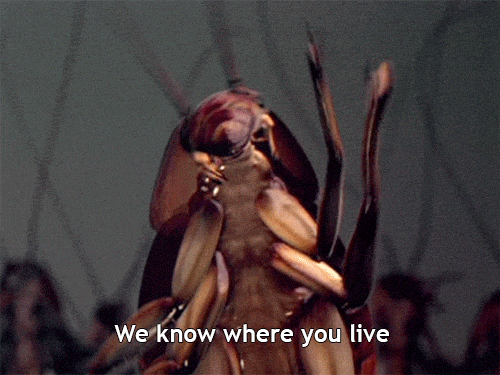 It can be humiliating, especially on occasion where my reactions are witnessed by others, but it can also be a useful tool at times. While still living at my parents house it came in handy often. Sort out the shoes in the closet that no one ever uses, i.e. Roach Motel? Pass. Get the Christmas decorations out of the attic? Hard pass. Bring in something from the garage? Nuh uh. Roach City.
Ok, I may have abused it a little, but it always worked. One mention of roaches and my parents would simply nod their understanding and drop it. Why? Because they knew. My fear was no joke; it was a reality we all lived in. (Also because I was definitely a spoiled brat – their fault.) You need only witness my hysterics once to know it was something to be avoided. That sounds melodramatic, I realize, but it's the absolute truth.
The point I'm trying to make here is that my fear of roaches is real. And to everyone that knows me, it isn't questioned. So explaining my recent lack of peace and inability to sleep is pretty easy – I blame roaches.
I realize as I'm typing this that it sounds like I've lived in horrendous conditions my entire life, but that's no where near the truth. My childhood homes were clean and well-kept, as is my current rent house; I wouldn't risk cultivating a roach paradise! However, here in the South we have big trees and hot summers. Big trees almost guarantee the abundance of gargantuan roaches; hot summers lead to those monsters trying to steal some of that sweet air-conditioned air inside. Mooching bastards. The home I grew up in was literally surrounded by woods. The occasional appearance of tree roaches inside was inevitable even with the bug spray service my parents paid for every two months. When I was 16 we moved out of the woods and into a neighborhood with wide open spaces. The property our house rested in had a grand total of two trees, positioned far enough away from the home so that I never had to encounter any of those vile creatures again.
I couldn't stay there forever though (but I delayed leaving as long as possible anyway 😉 ). The house I am currently living in is nestled between several large and looming trees, each one hosting unimaginable numbers of cockroaches. I'm a grown up now though, which means turning down a perfectly good living situation because there might be a few roaches crawling around from time to time isn't really an acceptable out anymore. So I did what any God-fearing adult moving into a new home surrounded by threats would do – I prayed that sh** down. Just like Mom taught me, I was pleading the Blood of Jesus over every square foot. Roaches might be able to survive a nuclear apocalypse, but they don't stand a chance against Jesus.
One year of living here and I have yet to see a living cockroach inside my home. I've seen two dead ones though, which isn't exactly a pleasant sight but it is still comforting – Jesus is killing them on site. This past week I found a dead roach in the sink, that same night I went to take the trash out only to see the largest freaking tree roach that I've ever laid eyes on just chilling on the window of my back door. It was outside, but it was very alive. I raced to the other side of the house and locked myself inside my room, my mind cataloging every possible entry point that the beast could use at any second. The crack at the base of the door. The poorly sealed kitchen window. THE DAMN ATTIC RIGHT ABOVE MY HEAD.
With so many access points, it was a miracle the place wasn't crawling with them already. Then it hit me – it was literally a miracle that I had never seen a live cockroach inside. They hadn't breached the walls yet because they couldn't. Once hit with this revelation, I knew I had nothing to fear. I texted my mom anyway and she confirmed the spiritual protection covering my home. I texted my cousin / roommate who unfortunately works nights – prime time for roach assaults – and he also settled my frazzled nerves, informing me that he'd sprayed every crack and crevice of the back door just that morning. The beast wouldn't live for much longer. Crawling across my door was a death sentence for it.
It didn't take long to reclaim my sense of security after that, and yet I still would not sleep that night. For hours I laid in my bed willing myself to try and get some sleep, but unable to silence my thoughts. I may have felt safe from a roach invasion, but peace of mind and spirit was elusive as ever.
I blame it on roaches. It's a simple enough explanation and easy to defend, but it's a cowardly way of avoiding the real reason I sometimes can't sleep. The truth is my thoughts can be a threat far worse than roaches at times, and much like roaches, nights are prime time for assault.
A coworker correctly presumed I was worried about something and it was keeping my mind wide awake. He was right, sort of. It's not just one particular thing I worry about, it's everything. Nothing is excluded from analysis and doubt. I go through every last detail of  my life and question everything.
And I always circle back to the same pitiful conclusion – I don't have anything in my life to claim as mine. I don't have a husband or family. I don't own a home. All my furniture and television was split between my cousin and me. Even my ticking time bomb of a vehicle is in my father's name, so I can't trade it in. It's really really stupid to waste time comparing your life to another's, but that's my sleep-deprived mind's favorite past time recently.
I was in pretty much the same situation two years ago, but I didn't really worry about it. I still lived with my parents and didn't care. I spent most weekends with my best friend (another cousin) doing nothing or hanging out with the rest of our family. My family is a bit strange in that we actually like spending time with each other; my cousins are literally my closest friends in the world. My best friend and I were unattached though, so we went on Florida vacations and spent more time together than apart.
Then one day she decided she was ready to get married. Very soon after that she decided on the man she was going to marry, even though he seemed uninterested at the time. When she decides she wants something, she makes it happen. I've always admired that about her. A month later they were living together. Five months after that they were engaged and expecting a baby. Fast forward a  few more months and she now has two brand new vehicles in the driveway of their very own home.
I'm happy that she got everything she ever wanted. I hate myself for feeling left behind, or worse – bitter and jealous.
I didn't have my best friend to waste the days with anymore, but it wasn't so bad. It wasn't like she disappeared, we're cousins after all. I moved in with my other cousin during this time. He was the only other member of our close knit family still unattached like me. We all have each other, of course, but there's still a sense of being apart from those units. He understood that more than anyone else. Like me, he preferred to hang around family than cultivate friendships. Also like me, he had doubts about his place and purpose surrounded by so many growing families.
We once had a debate over who could go missing the longest amount of time before someone noticed. Sounds pretty dark, but that's just the sort of thing we related to one another over. Things just sort of happened for everyone else and we were essentially tagging along while all of our other cousins' lives fell into place.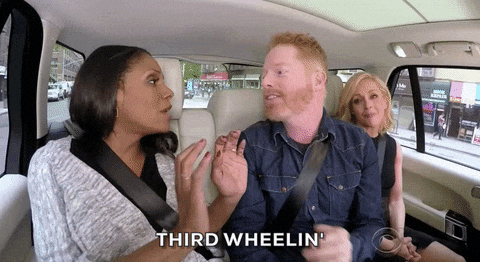 I knew as well as he that we couldn't exactly blame anyone but ourselves for our perpetual singleness. The few friends we have that aren't family are all already married, our church isn't ripe with eligible dating candidates, and we had probably become too complacent with our current lot. I've never been in a relationship. I wouldn't even know how to be in one. He understood that sort of anxiety better than anyone.
Just a few months into our lease however, all of that changed. The things that just sort of happened for everyone else, happened for him. The girl of his dreams moved in right next door. Her toddler son may as well be his now, it's clear how much he loves them both. And I am so very happy for him. I can honestly say that if anyone deserves that kind of happiness, it's him.
I don't want to envy the happiness of my loved ones. I don't want to feel a twinge a sadness every time I see something wonderful falling into place for someone who truly deserves it. I just can't help but wonder why it keeps happening for everyone else but me.
God worked it out so that he didn't have to venture very far to find a partner. He basically planted her right smack dab on his doorstep.
And I'm still here, sitting in this empty house, staring at the words no one else will ever read, wondering if this is all I'll ever see.
It does beg the question, how long would it take someone to notice that I was missing? I don't think my coworkers would take very long before attempting to track me down, but I think that might make me even more depressed. The Parks Department would notice my absence before anyone else. That's not being very fair to my family though, I realize. I'm definitely being melodramatic now, but that's why we blog, isn't it?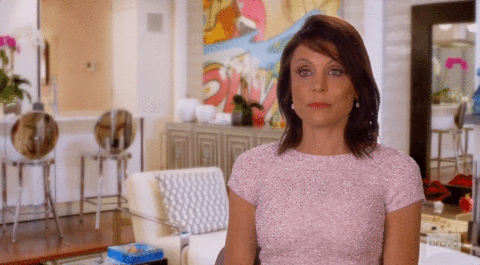 That's just the sort of path my mind likes to take me on as the evening hours drag on. Today was the fourth time in recent months that I gave up on sleep and went into work before 5am for want of something to do. Because if I let my thoughts get the best of me, they take me deeper into the pit of sadness and self-loathing, they show me a future of loneliness and dissatisfaction.
Thinking of the future is what I hate most of all. Because someday – and I pray to God that someday is far, far away – I will no longer have the one piece of my life that I cherish most of all. My mother won't always be with me in this life, and when she's gone I fear I will truly have nothing at all.
Fear is a powerful force. You can be moved into action by its presence, or paralyzed in place instead.
I blame it on roaches, but such a childish phobia doesn't hold a candle to what truly terrifies me. I am afraid of being left behind. I'm afraid of never having anything that's mine. The fear of being alone for the rest of my life is enough to keep me awake at night as I agonize over how to avoid that fate.
But I think the thing that most scares me is the possibility that I might have already chosen this future. I worry that I like being alone much more than I should.
That said, it's still the roaches' fault.